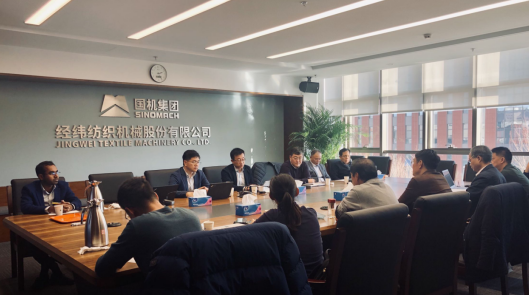 JINGWEI & CTMTC Overseas Market Information Exchange Seminar was held in Jingwei Textile Machinery Co., Ltd. on the 30th November 2021. Jingwei Textile Machinery Deputy General Manager Gao Linyu, Marketing Center General Manager Zhang Yansheng, Deputy General Manager Guo Hongshou, Liang Wenli, Wang Ke, and relevant personnel from the International Trade Department, CTMTC Deputy General Manager Li Min, and managers of textile machinery business departments participated in the seminar.
Mr. Guo Hongshou hosted the meeting, and the managers from CTMTC shared the market information, competition situation, existing problems, and difficulties of Pakistan, Turkey, Indonesia, Uzbekistan. The participants expressed their opinions on strengthening the cooperative relationship between CTMTC and Jingwei Textile Machinery and discussed how to expand overseas market.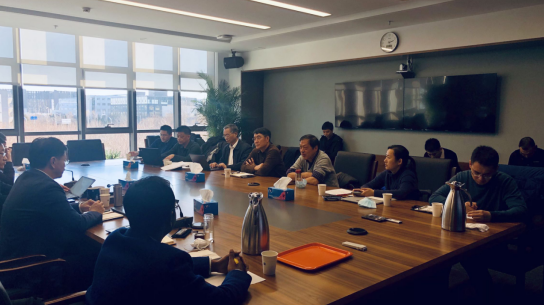 Mr. Li Min said that the two companies should enhance exchanges to study and discuss market competition strategies in the post-epidemic era. Both sides should also make good use of corporative advantages and resources and focus on improving brand image, upgrading product and service, and building investment and financing capacity, to augment Jingwei's core competitiveness in overseas market.
Mr. Gao Linyu summarized the key points at the end of the meeting. He proposed that Jingwei and CTMTC should normalize the exchange of information and enhance cooperation. Based on analyzing the problems, the two companies should seriously study and plan the markets, products, and services, increase investment in overseas market publicity. Moreover, the companies should exploit the potential to improve system efficiency, strengthen resource integration to develop competitive advantages, to expand overseas market share.
At the seminar, the two companies had a deep exchange of information on the international market, the advantages and disadvantages of enterprises, the products and services, etc. Jingwei Textile Machinery and CTMTC conducted in-depth studies to discuss how to deepen cooperation and integrate the advantages of both parties' resources, to lay a good foundation for better exploring overseas markets, improving product and service quality, and enhancing the core competitiveness of textile machinery export.