The new generation of auto-winder with linking is developed as per latest needs of end users, which is a new model based on SMARO-I auto winder with linking system and could link with any spinning machines with longest length to 1800 spindles. The new auto-winder can meet the requirements of customers from N0.6 to the highest count of yarn. Ifs featured with improvements in stable and reliable performance, winding into perfect package and easier to be operated. Its brightest spot is the spinning quality tracking system, by using RFID ie. radio-frequency technique, the faulty bobbins can be traced back to the spindle of the spinning machine, thereby to solve the spinning problem and impix>ve the quality of yarn.
High Quality:Automatic bobbin feeding from spinning frame to auto-winder improves yam cleanness and avoids yarn contact damage.
High Efficiency: To solve the friction between package of spinning frame and speed so as to enhance the spindle speed of spinning frame and increase productivity.
Enhance Automatic Level:To transport yarn package and feed bobbin automatically so as to save labor and connect the two labor-intensive procedures directly not only to realize automation and continuous production but also to improve quality and enhance productivity.
High Efficient and High Quality Piecing Unit: Special photoelectric sensor for monitoring yarn packing status in real time; Upper and lower air door control to enhance picking rate and efficiently control air consumption efficiently; Vertical line suction cylinder moves up and down to hance motion precision; Resonable suction clip and vertex blowing system can greatly enhance picking rate.
Completely Automatic Yarn Supply: Bobbin supply from spinning frame to auto-winder is completely automatic, free of manual feed. Behind single spindle it is designed with spare bobbin convey channel; Bobbin conveyor increase logic judgment to make following actions such as full bobbin, empty bobbin, picking, re-piecing, waste yarn treatment, stop, pass in CBF not interfered with each other; Bobbin change is automatically detected and feed; Empty bobbin is automatically transported back to spinning frame by loop belt; Bobbin is transported by support disc that eliminated bobbin yarn surface damage and reduce pilling increment.
High Efficient and Intelligent Doffing Unit: High efficient automatic doffing and doffing circle; Traverse speed 60m/min; Doffing package diameter max.Φ300mm; Intellectualized single spindle automatic re-start; Brife automatic action and piecing yarn fixing position is adjustable;Smart judgment of bobbin and package yarn in existance to ensure favoring doffing; Manual and automatic is optional for convenient doffing adjustment; Automatic package transpotation.
Drum Driven by a coaxial connected brushless DC motor: Drum driven by a coaxial brushless DC motor, aiming at high driving efficiency, low paper consumption and superior package quality; Compared with the tranditional belt drive, the coaxial drive eliminates the power loss caused by belt friction and sliding. Thereby the productivity is improved due to lower power consumption. Electronic anti-patterning system functions during the whole winding process to eliminate the formation of critical patterned yarn. The anti-patterning cycle and range is pre-set in HMI and changed automatically according to the dynamic package diameter. Yarn clearer monitors whole winding process. When yarn breaks or detect occurs, package lifts instantaneously for package brake, which ensure no friction between package and drum during instantaneous brake. Drum speed is accelerated gradually which ensures synchronization and free of slippage between package and drum during winding process and ensure precise package yarn length.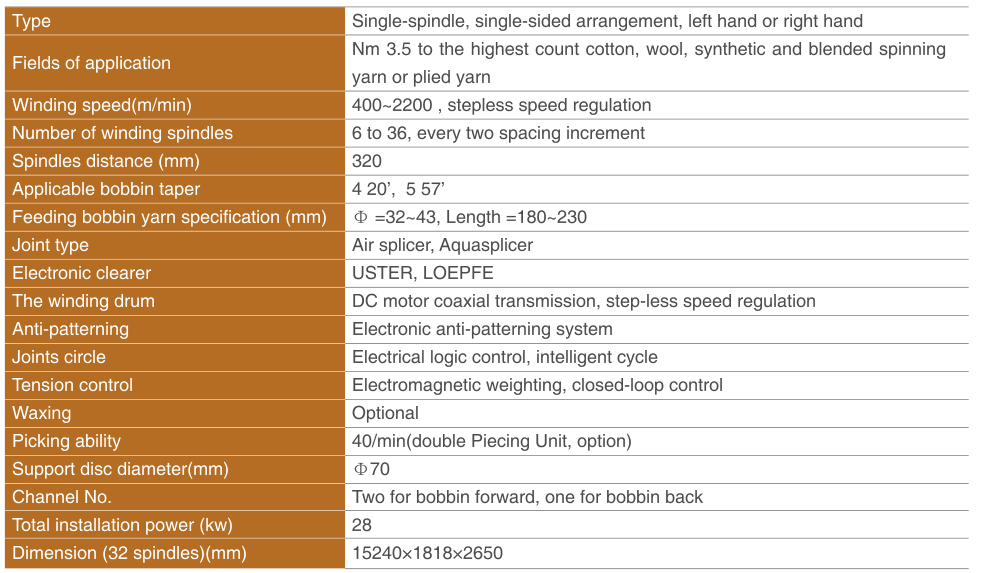 Dynamic System