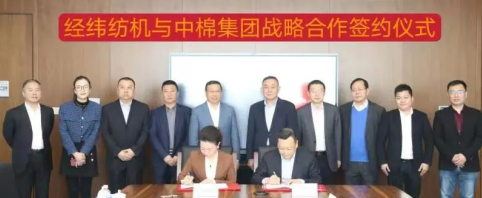 On March 3, Jingwei Textile Machinery Co., Ltd. signed Strategic Cooperation Agreement with China National Cotton Group Corporation (CNCGC) in Sino-Science Jingwei Intelligent Manufacturing Industrial Park. Chairman of Jingwei Textile Machinery, Wu Xudong, and Chairman of CNCGC, Wang Zhengwei, jointly witnessed the signing of the agreement and held talks.
Wu Xudong extended a warm welcome to the guests and introduced the company's development and the company's transformation into a service-oriented digital company. Wang Zhengwei introduced the business operations and development direction of CNCGC. The two parties agreed to fully harness their respective resources and strengths, deepen cooperation in cotton and yarn businesses and supply chain services to support the high-quality development of the cotton spinning industry.
Zhou Rui, general manager of JINGWEI TEXSCM, reported and interpreted the specific cooperation mode in the next step. The following people also attended the event: Shao Mingdong, deputy general manager of Jingwei Textile Machinery; Zhu Changfeng, CFO of Jingwei Textile Machinery; Zhang Yansheng, general manager of the Marketing Center, leaders from JINGWEI TEXSCM and related business departments, Zhao Ling, vice president of CNCGC, and responsible person of relevant business departments.