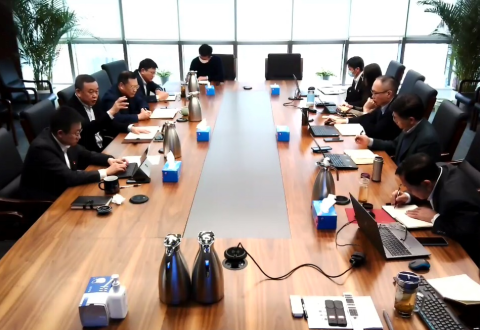 On March 24, 2022, Jingwei Textile Machinery held the mobilization meeting for key projects at the company headquarters. Chairman Wu Xudong took part in the meeting. Deputy general managers Shao Mingdong, Guan Jinwen, Gao Linyu, responsible persons for Marketing Center and relevant departments also attended the meeting. Key people from subsidiaries, and regional sales managers participated in the meeting online. The mobilization meeting was presided over by Deputy general manager Gao Linyu.
At the meeting, Zhang Yansheng, General Manager of Marketing Center, made a detailed report on the progress of the company's key domestic and overseas complete projects in 2022. He proposed that it is necessary to ensure on-time delivery with abundant orders. Secondly, in recent years, product performance of lap combers, draw frames, and auto-winders have been significantly improved, which has been fully recognized by customers, so sales personnel should scale up the promotion in the future. Thirdly, as the long delivery time of competitors, Jingwei should seize the favorable opportunity to achieve breakthroughs in key overseas markets.
Company leaders also underscored that all manufacturing units should be highly coordinated on production scheduling, delivery, installation & commissioning. During the implementation of the project, the person in charge of the site must effectively coordinate on-site resources and provide one-stop service for customers. The Technology Center should cooperate closely with subsidiaries in project communication to implement the strategic deployment of the company's digital transformation and further promote e-Sys 3.0, Auto-leveler equipment, Packing system, etc. And the Marketing Center should vigorously promote lean management of the whole process of the contract.
In 2022, based on the key projects, the company will promote Jingwei Textile Machinery to be the supplier of comprehensive solutions for Smart Spinning Factories, the controller of industrial chain data, the setter of online yarn testing standard, the enabler of industry ecological trading platform, and the creator of the industrial chain credit system.