In order to align with the national strategy and actively respond to the three-year action of Sinomach Group to revitalize textile machinery, on the basis of consolidating its domestic market share, Jingwei has intensively explored overseas markets through foreign exhibitions, product promotion meetings, online video conferences, and inviting customers to visit China, laying a solid foundation for the internationalization of Jingwei brand.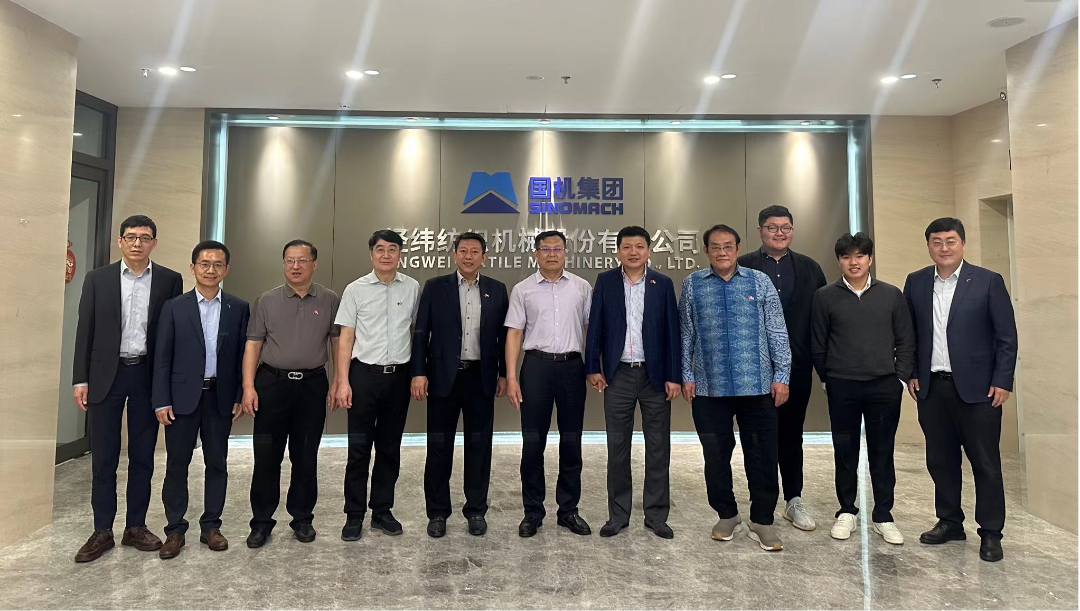 Recently, the senior delegation of SRITEX Group Indonesia led by President Mr. Iwan S. Lukminto, visited Jingwei Textile Machinery Co., Ltd. The delegation was warmly received by Shao Mingdong, chairman and general manager of Jingwei, Guan Jinwen, deputy general manager, Wang Ke, deputy general manager, Liu Yongqing, director of information technology, and Zhu Yingqing, minister of international trade. Li Min, deputy general manager of CTMTC, accompanied the visit activities.
SRITEX is the largest textile group company in Indonesia, its business covers the whole textile industry chain such as spinning, weaving, dyeing and finishing, garments, chemical fiber, etc., with an existing spinning scale of more than 1 million spindles, complete sets of equipment from Jingwei shared 60%.
At the meeting, Liu Yongqing introduced the Jingwei information system and made a live demonstration, and Zhu Yingqing introduced the latest intelligent complete sets of equipment of Jingwei to the SRITEX delegation. Mr. Ivan presented the development of SRITEX Group in recent years and plan in future, and the two sides had in-depth and detailed discussion on cooperation in spinning and other projects, and had in-depth exchanges on industry development and future cooperation.
Shao Mingdong pointed out that SRITEX Group is a long-term partner of Jingwei, the two companies have established a close cooperation relationship and forged a deep friendship for more than 20 years. In the future, Jingwei will continue to improve product quality and technical level, and lead the continuous development of the textile industry with customers at home and abroad.
President Iwan expressed his gratitude to Jingwei and CTMTC for their long-term support, and through this exchange, the confidence and willingness of SRITEX Group to cooperate in the future have been greatly enhanced.