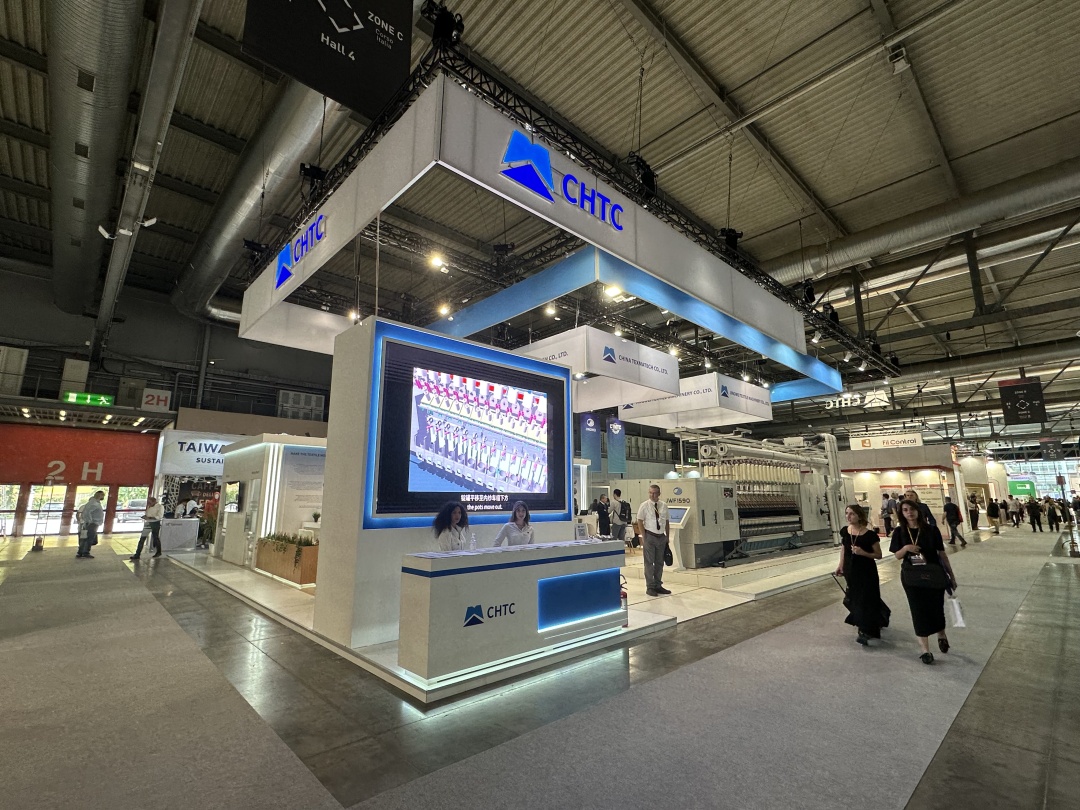 At 10am local time on June 8th, the 19th International Textile Machinery Exhibition (ITMA2023) kicked off in Fiera Milano Rho, the exhibition hall of New Milan, Italy. As the most important exhibition platform in the field of international textiles and textile machinery, this exhibition has attracted more than 1,600 exhibitors from 44 countries with the theme of "Transforming the world of textiles", with an exhibition area of 200,000 square meters, covering 12 exhibition halls, including all 20 chapters of the product index, from spinning, finishing, software, logistics, fiber, yarn to fabric. In this exhibition, Jingwei Textile Machinery exhibited three machines: JWF1590 intelligent ring spinning frame, JWF1217 new generation carding machine, and K3501F new generation twisting machine connecting the whole process logistics system of spinning, twisting and weaving.
JWF1590
1. The machine adopts complete section assembly, 8-spindle bottom roller, aluminum alloy joint roller seat, round beam, L-shaped spindle rail, double air duct process cotton suction, and active ring rail lifting.

2. Integrated design for main machine with a maximum 1824 spindles.

3. The steel belt type doffing system ensures stable operation of the convex plate and controllable speed.

4. The suction negative pressure on both sides of the headstock and endstock is balanced, and the energy consumption of process suction is reduced by more than 30%.

5. The high-precision combination of middle frame and spindle rail can meet the high-speed spinning requirements of over 22000 rpm.

6. The fully electronic drafting system achieves independent driving and linkage control of three bottom rollers.

7. The new rapid doffing technology reduces the doffing time to less than 2 minutes.

8. The intelligent spinning expert system provides customers with a convenient spinning experience.

9. It can be equipped with value-added modules such as centralized cotton picking and roving, spinning and winding unit.

10. The new industrial design gives a refreshing visual experience.




JWF1217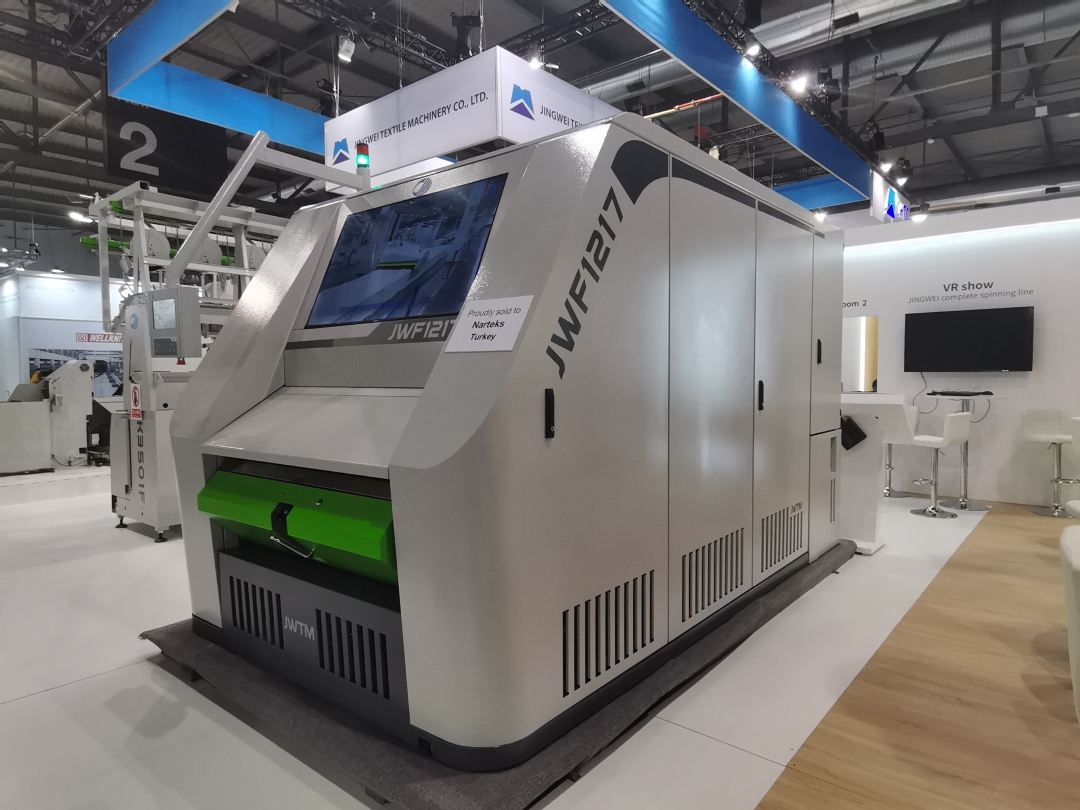 3-meter carding arc length, 40-piece rotary flats participating in carding and 9-point gauge adjustment for accuracy to improve the carding ability.

Big-diameter feeding structure to strengthen the holding force and the ability of carding and impurity removing.

Multi-point independent servo motor drive, flexible process adjustment, precise control.

Multi-functional and intelligent detection system and safe production system.

Max sliver delivery speed: 400m/min.




K3501F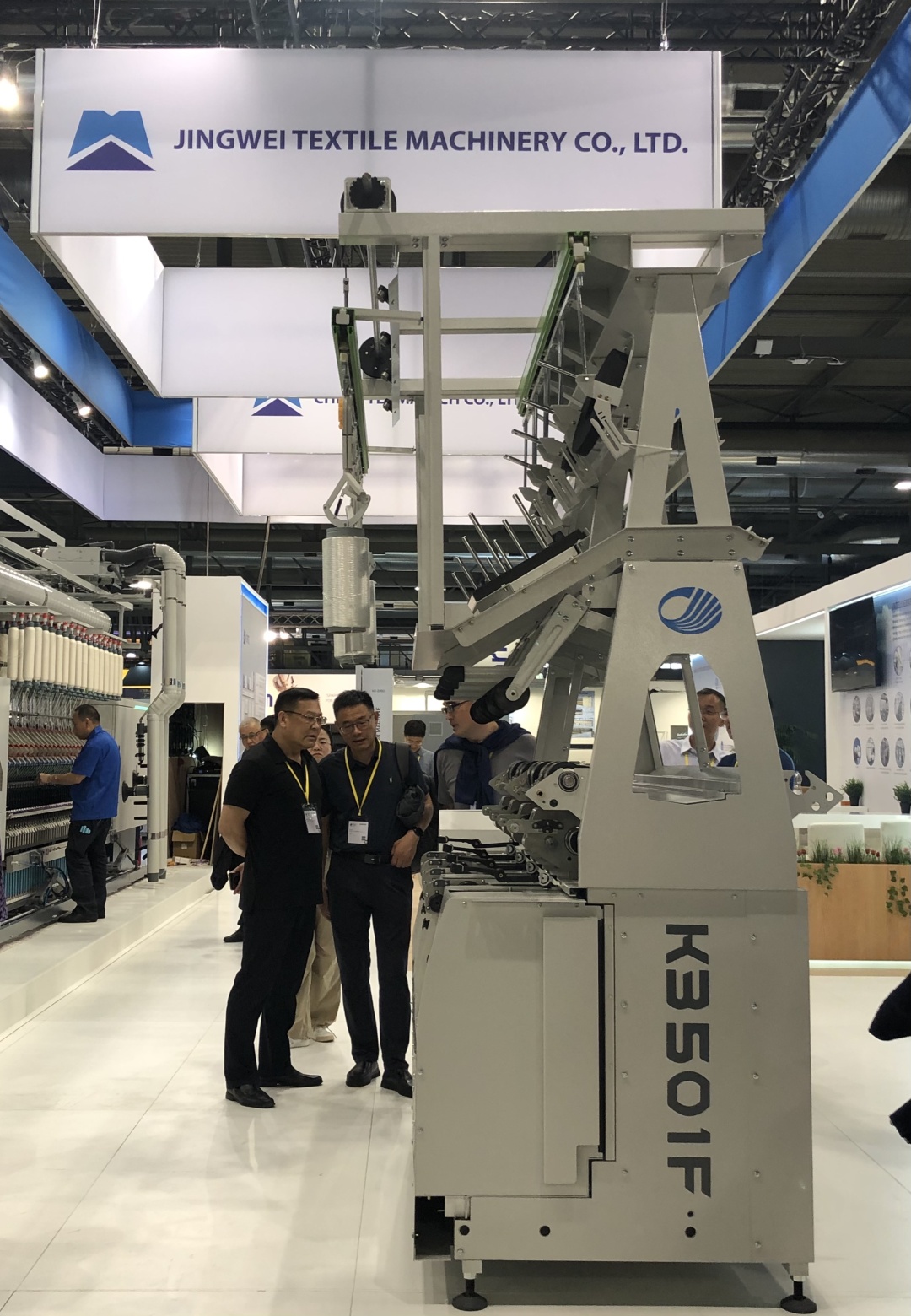 Connect the whole process logistics system of spinning, twisting, and weaving with a new generation of twisting machines




Twisting Machines:

New generation of balloon control energy-saving technology


Translatable twisting assembly

Regulator with integrated inner yarn tensioner

Open spindle pot

Combined outer yarn creel with movable creel and fixed creel




Logistics system:

Independent Distribution Area

Set Storage Area

Suspension chain main object streamline conveying system

Twisted packages are automatically uploaded to the logistics conveying system

Automatic palletizing or uploading to mobile creels

Information management system, variety identification, intelligent scheduling
Jingwei Textile Machinery actively responded to SINOMACH's three-year action to revitalize textile machinery, focused on comprehensive solutions and digital technology services of smart textile factories, consolidated domestic market share, and continued to increase overseas market development, laying a solid foundation for building a world-class textile machinery enterprise.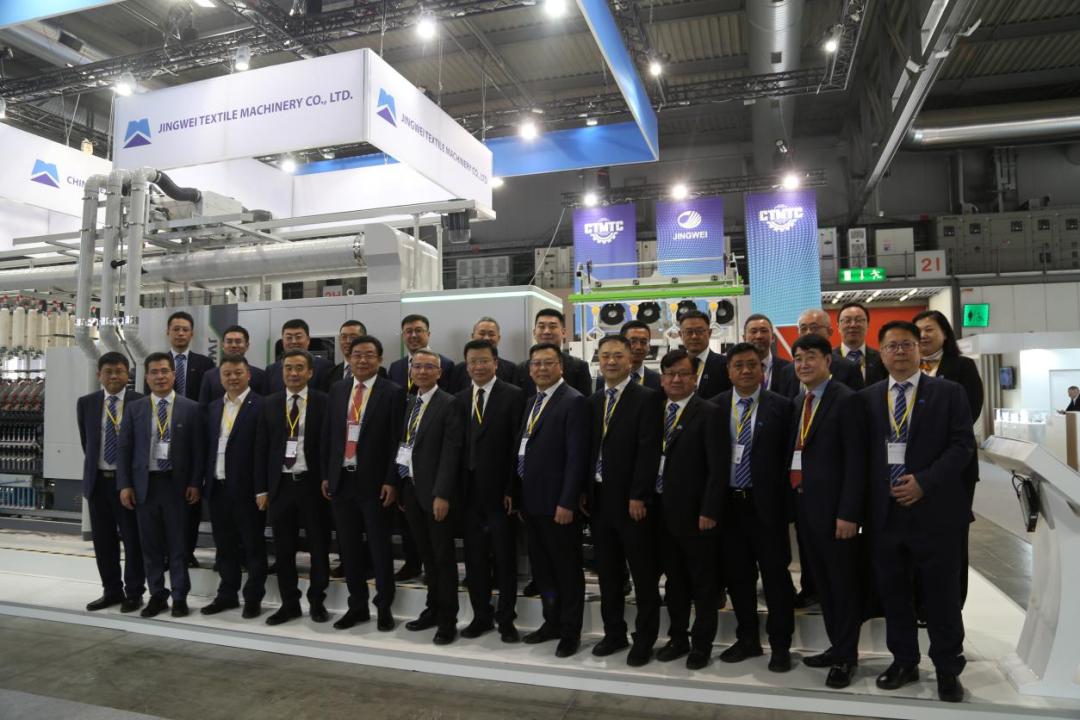 Jingwei textile machinery booth is located at Stand C312, Hall 2. We warmly welcome you to visit us.




2023/6/8/-14

Hall 2 Stand C312


Fiera Milano Rho Exhibition Center


Strada Statale 33 del Sempione 28 - 20017 Rho, Milano